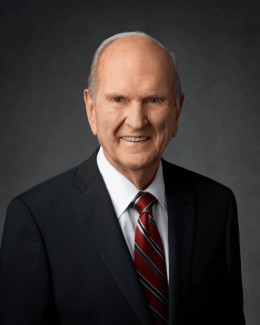 Russell M. Nelson
President of the Church of Jesus Christ of Latter-day Saints
Born September 9, 1924, President Nelson is the son of Marion C. and Edna Anderson Nelson. He and his wife, the former Dantzel White, have ten children. Sister Nelson passed away in February 2005. In April 2006, he married Wendy L. Watson.
Prior to his service as head of the Church, President Nelson served as president of the Quorum of the Twelve Apostles from July 15, 2015, until his call as the Church's leader. He has served as a member of that quorum since April 7, 1984.
An internationally renowned surgeon and medical researcher, Dr. Nelson received his B.A. and M.D. degrees from the University of Utah (1945, 47). Honorary scholastic societies include Phi Beta Kappa and Alpha Omega Alpha. He served his residency in surgery at Massachusetts General Hospital in Boston and at the University of Minnesota, where he was awarded his Ph.D. Degree in 1954. He also received honorary degrees of Doctor of Science from Brigham Young University in 1970, Doctor of Medical Science from Utah State University in 1989, and Doctor of Humane Letters from Snow College in 1994.
His professional work included the positions of research professor of surgery and director of the Thoracic Surgery Residency at the University of Utah and chairman of the Division of Thoracic Surgery at LDS Hospital in Salt Lake City.
Author of numerous publications and chapters in medical textbooks, President Nelson lectured and visited professionally throughout the United States and in many other nations prior to his call as a General Authority. A host of awards and honors have come to him, including the Distinguished Alumni Award, University of Utah; the Heart of Gold Award from the American Heart Association; a citation for International Service from the American Heart Association; and the Golden Plate Award, presented by the American Academy of Achievement. He has been awarded honorary professorships from three universities in the People's Republic of China.
Dr. Nelson has served as president of the Society for Vascular Surgery, a director of the American Board of Thoracic Surgery, chairman of the Council on Cardiovascular Surgery for the American Heart Association, and president of the Utah State Medical Association.
He is listed in Who's Who in the World, Who's Who in America, and Who's Who in Religion.
President Nelson has held numerous positions of responsibility in the Church. He served as stake president of the Bonneville Stake from 1964 to June, 1971, when he was called as general president of the Sunday School. Prior to his call to the Quorum of the Twelve, he was serving as a Regional Representative assigned to the Kearns Utah Region. He had previously served as Regional Representative for Brigham Young University.
---