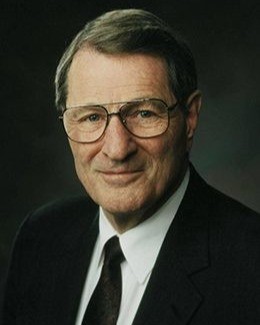 Neal A. Maxwell
Quorum of the Twelve Apostles
Neal A. Maxwell was born July 6, 1926, in Salt Lake City, Utah, the oldest of six children. A smart and active boy, he attended Granite High School, where he wanted to play on the school's basketball team. Unfortunately, Neal did not grow to his adult height until after high school, which severely inhibited his competitiveness in the sport and was a big disappointment for him. He also suffered from severe acne and was teased by other kids for his hobby of raising pigs. These trials in his youth prepared him for greater ones to come and helped him develop deep, humbling compassion for others.

After high school, Neal A. Maxwell served as an infantryman in the army during World War II. He witnessed the battle of Okinawa. Crouched in a foxhole, he found himself surrounded by bursting shells; he realized that the enemy was aware of his position and that he would inevitably be shot. He offered a desperate prayer to Heavenly Father, who answered his prayer and saved his life. Young Neal A. Maxwell did not take that experience lightly and knew that God had spared him for a specific purpose.

When the war ended Elder Maxwell enlisted in a different type of service, serving as a missionary for The Church of Jesus Christ of Latter-day Saints in Canada. After returning from his mission, he began school at the University of Utah, where he would earn a bachelor's degree and a master's degree in political science. While studying, he met Colleen Hinckley; they fell in love and were married on November 22, 1950, in the Salt Lake Temple. Their family grew to include four children and twenty-four grandchildren.
After graduating from the University of Utah, Elder Maxwell worked for four years in Washington, D.C.—first for the federal government, and later for Senator Wallace Bennett. Following his time in Washington, he was able to use these experiences when he returned to his alma mater as a political science professor. He further served the university as an administrator, working as the director of public relations, the assistant to the president, the secretary to the Board of Trustees, the dean of students, the vice president for planning and public affairs, and an executive vice president.
Elder Maxwell also contributed his talents to the realms of business and public service. He was the director of Questar Corporation and Deseret News Publishing Company, and he served as the chairman of the Utah Constitutional Revision Commission. He received the Liberty Bell Award from the Utah State Bar for his service to the community. He also received honorary doctorates from the University of Utah, Westminster College, Utah State University, and Brigham Young University, and honorary degrees from Salt Lake Community College and Ricks College. The University of Utah established an endowed chair in his name.
Despite having served on the battlefield and the mission field, as well as in government, education, business, and public service, Elder Maxwell is best known for his service in the Church. He served as bishop of a Salt Lake City congregation, as member of the General Young Men board, and as one of the first regional representatives in 1967. He later brought his experience in education to his position as the Commissioner of Church Education. In 1974 he was called as a general authority, being assigned as a secretary to the Quorum of the Twelve Apostles. When that position was eliminated, he served in the Presidency of the Seventy until he was ordained an apostle in 1981.
Elder Maxwell wrote thirty books on religion and many articles on government and politics. He was well known and admired for his eloquent style and profound insights, which are characterized in the thirty devotional addresses he delivered on the BYU campus.
Diagnosed with leukemia in 1996, Elder Maxwell inspired many with his resilient and patient endurance during his eight-year battle with cancer.
The disciple Elder Neal A. Maxwell, a remarkable witnesses of Jesus Christ, consistently testified of the place of trials in our lives and the love that our Heavenly Father has for us. He passed away on July 21, 2004, in Salt Lake City.
---