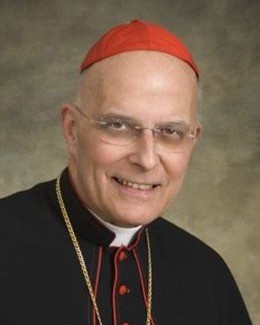 Francis E. George
Eighth Archbishop of Chicago
Francis Eugene George was born on January 16, 1937, in Chicago, Illinois, to Francis J. and Julie R. McCarthy George. Both of his parents were active Catholics, and from the time of his first communion at age seven, George wanted to become a priest. He received his early childhood education at the parochial school of St. Pascal Church in Chicago's Northwest Side, but a bout of polio at age 13 and its subsequent disabilities disqualified him from studying at Archbishop Quigley Preparatory Seminary. Instead, he enrolled at St. Henry Preparatory Seminary, a high school seminary of the Missionary Oblates of Mary Immaculate.
On August 14, 1957, at age 20, Francis George joined the Missionary Oblates and then continued his studies at Our Lady of the Snows Seminary and the University of Ottawa in Canada. Bishop Raymond Hillinger ordained George a priest on December 21, 1963. He went on to earn a bachelor of theology degree in 1964 and an MA in philosophy from the Catholic University of America in Washington, DC, in 1964. He then taught philosophy at a number of universities: Our Lady of the Snows seminary, Tulane University, and Creighton University. During his time teaching, George continued to seek education and earned a doctor of philosophy in American philosophy from Tulane and a master of theology degree from the University of Ottawa.
On July 10, 1990, Pope John Paul II appointed George to be the fifth bishop of Yakima in Washington State, where he served for five and a half years. He chose Christo Gloria in Ecclesia as his motto—"to Christ be glory in the Church." He was a member of the United States Conference of Catholic Bishops (USCCB) and an episcopal advisor and moderator on many other committees.
George was appointed the ninth archbishop of Portland, Oregon, on April 30, 1996. One year later, on April 8, 1997, he was appointed the eighth archbishop of Chicago, the first native Chicagoan to receive that appointment. Archbishop George was elevated to the College of Cardinals on January 18, 1998, with the title of Cardinal-Priest of Saint Bartolomeo all'Isola. Cardinal George was the archbishop of Chicago for seventeen years, known for advocating orthodoxy and conservative views.
In 2010 Cardinal George gave a forum address at Brigham Young University. He spoke of the need to protect religious freedom, saying, "In recent years, Catholics and members of The Church of Jesus Christ of Latter-day Saints have stood more frequently side by side in the public square to defend human life and dignity."
After a nine-year battle with bladder cancer, Cardinal George passed away on April 17, 2015. How does he want to be remembered? In his last mass as archbishop in the Holy Name Cathedral, Cardinal George said, "In short, you are my legacy. The people of the archdiocese are what I will point to when the Lord asks me, 'What have you done with my gift to you?'"
---