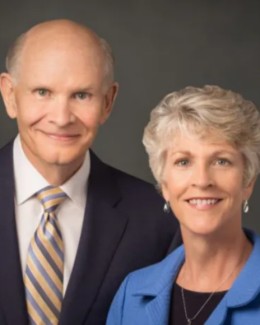 Dale G. and Ruth L. Renlund
Dale G. Renlund
Dale G. Renlund was born in Salt Lake City, Utah, in November 1952. He married Ruth Lybbert in 1977. They are the parents of one daughter.
He has served in numerous church callings including full-time missionary in Sweden, stake president, bishop, and Area Seventy.
Elder Renlund had served as a General Authority Seventy since April 2009 prior to being named to the Quorum of the Twelve. He previously served in the presidency of the Africa Southeast Area.
After receiving B.A. and M.D. degrees from the University of Utah, Elder Renlund received further medical and research training at Johns Hopkins Hospital. He was a Professor of Medicine at the University of Utah and the Medical Director of the Utah Transplantation Affiliated Hospitals (UTAH) Cardiac Transplant Program.
Ruth G. Renlund
Salt Lake City Attorney Ruth Lybbert Renlund is former president of the law firm Dewsnup, King & Olsen, a firm she helped form and where she practiced plaintiff civil litigation for 20 years. Before this, she was for three years assistant attorney general of the State of Utah and served on the board of directors for the Deseret News, Murdock Travel, and the Workers Compensation Fund of Utah. She was a member of the Utah Supreme Court's Committee on Professionalism and chair of the Judicial Conduct Commission for the State of Utah. She was the first female president of the Utah Trial Lawyers Association. After receiving a bachelor's degree in history and a teaching certificate from the University of Utah, Ruth taught high school English and debate in Utah for a time, before earning a juris doctorate from the University of Maryland Francis King Carey School of Law, where she was a member of the national moot court team and received the William P. Cunningham Award in recognition of exceptional achievement and service to the law school.
Ruth is married to Elder Dale G. Renlund of the Quorum of the Twelve Apostles of The Church of Jesus Christ of Latter-day Saints. She has served with her husband in assignments including five years in the presidency of the Church's Africa Southeast Area, with headquarters in Johannesburg, South Africa. The Renlunds are the parents of a daughter, Ashley.
---