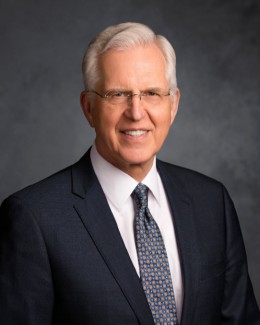 D. Todd Christofferson
Quorum of the Twelve Apostles
Born in American Fork, Utah, D. Todd Christofferson graduated from high school in New Jersey, earned his bachelor's degree from Brigham Young University, where he was an Edwin S. Hinckley Scholar, and his law degree from Duke University.

Among other callings, he has served the Church as a Regional Representative, stake president, and bishop. As a young man, he served as a missionary in Argentina.
D. Todd Christofferson and his wife, Katherine Jacob Christofferson, are parents of five children.
At the time of his call to the Quorum of the Twelve, he was serving in the Presidency of the Seventy. During his tenure in the Presidency of the Seventy, Elder Christofferson had supervisory responsibility for the North America West, Northwest, and Southeast Areas of the Church. He also served as Executive Director of the Family and Church History Department. Earlier, he was president of the Mexico South Area of the Church, resident in Mexico City.
Prior to his call to serve as a full-time General Authority of the Church, Elder Christofferson was associate general counsel of NationsBank Corporation (now Bank of America) in Charlotte, North Carolina. Previously, he was senior vice president and general counsel for Commerce Union Bank of Tennessee in Nashville where he was also active in community affairs and interfaith organizations. From 1975 to 1980, Elder Christofferson practiced law in Washington, D.C., after serving as a law clerk to U.S. District Judge John J. Sirica during the trials and other proceedings known as Watergate (1972-74).
---